Committed for more than 15 years in a process of continuous improvement of its processes and production tools in order to reduce its environmental impact, SICTA is today renewing its ISO 14001 certification and intends to stay on course for the years to come.
ISO 14000 standards were established in 1996 by the International Standards Organization in order to make https://groupe-citele.com/en/sicta-en/companies accountable for environmental issues through the implementation of internal management systems and policies in order to preserve the environment. These standards are designed as tools that allow companies to assess in real time the environmental impact of their production tool, to verify the quality of the materials and services they buy, but also to develop a sustainable strategy in accordance with the objectives that are set towards this perspective.
What does the ISO 14001 certification consist of?
The ISO 14001 standard defines the characteristic elements of the establishment and use of an efficient and environmental-friendly management system for the company. The latter must therefore be compelled to update its environmental policy, to demonstrate its compliance with the standard by rolling out an action plan in order to achieve its objectives and to develop a monitoring tool to measure its progress.
To obtain the ISO 14001 certification, the company must contact an accredited certification body ; the certification process extends on 3 years :
A first complete audit is carried out by the certification body, which ensures that the Environmental Management System implemented by the company is in conformity with the requirements of the standard. The duration of this audit varies between 2 to 4 days and aims to achieve an in-depth analysis of the risks and of the production tool concerned.
Follow-up audits are then planned out at regular intervals over the next 2 years.
2017, crowning of SICTA's continuous improvement approach to reduce its environmental impact
As soon as its machine shop was set up, the SICTA site in Auxelles-Bas (Territoire de Belfort, 90) was subject to various measures intended to limit its environmental impact ; in fact, from the start of the project (2005), the site was the subject of a prefecturial authorisation which set a certain number of objectives relating to industrial waste or water consumption, with regard to the specificities linked to the protected environment of companies located near the Ballon des Vosges.
Aware of the importance of rationalised management of its production in order to control its environmental but also financial impacts, the company has chosen to invest in the integration of technologies allowing the optimisation and recycling of fluids and materials used during the production cycle.
For this purpose, SICTA installs, for example, a cutting fluid processing unit (lubricants involved in the operation of machining centers) : the fluids loaded with metal filings leaving the machining centers are transported to the treatment unit. The latter separates the fluids from the solids before reinjecting them into the production circuit. The aluminum filings are then compacted into briquettes ready to be remelted.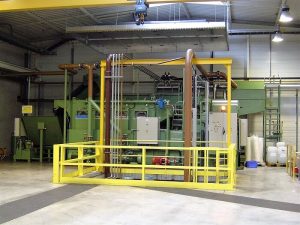 SICTA's HSE (Health, Safety and Environment) policy naturally benefits from the actions implemented within the framework of this approach : the implementation of a system for collecting and filtering oil mists coming out of the machining centres allows the company to reject pollution-free air outside while guaranteeing a clean and safe working environment for its employees.
In 2017, obtaining ISO 14001 certification encouraged the company to continue its actions in favor of environmental protection and to pursue its waste recovery policy by investing in particular in a pressing machine for cardboard and plastic. These packaging materials are then compacted and resold to external service providers specialised in the recycling of industrial waste. Pallets and other returnable packaging are also returned to SICTA's suppliers.
 A strong willingness to continue improving its processes over the long term
Being ISO 14001 certified implies a long-term commitment : SICTA's Environmental Management System provides for monthly internal audits : selective sorting, monitoring of machines, presence of retention tanks guaranteeing the absence of pollution on the ground, identification of chemicals, the presence of anti-spill kits, wearing of Personal Protective Equipment, tidying up the site, and accessibility of emergency exits and fire extinguishers are all key points that must be constantly verified.
In 2020, SICTA adds a compressor condensate treatment system to its production tool : the treatment of liquid waste consisting of water and hydrocarbons (machine lubricants), which was outsourced, is now carried out internally. This system separates the hydrocarbons from the water, which can thus return to the municipal sewerage network generating a saving of 40m3 of condensates per year.
"The next step will be to optimise the liquid outflows reprocessing system ; we have 2 tanks of 3000 liters which collect the washing water (these tanks are regularly collected by a specialised company, responsible for the treatment of the liquid waste). After 15 years of operation of the premises which shelter these tanks, we wish to renovate and secure this space in order to maintain a perfect seal" explains Daniel LARCHE, Human Resources Director of  CITELE Group.
With the ecological transition, SICTA is renewing itself and expanding towards new markets
Resolutely turned towards the future, SICTA is a true 4.0 Factory and projects itself into the Industry of the future : since the implementation of various digital tools (Computer-Aided Maintenance Management system, planning and scheduling software, Manufacturing Execution System …), SICTA is able to analyse its production and maintenance data in real time across its entire production and logistics chain. For example, the site can know its water and energy consumption at any given time in order to better control them at each step of the process.
"Our choice to adopt the ISO 14001 standard has of course enabled us to consolidate our brand image towards our clients and institutions : at a time when questions relating to the ecological transition are on everyone's lips, our interlocutors appreciate that SICTA is capable of knowing and controlling its ecological impact ; moreover for some of our customers who give priority to environmentally friendly companies, ISO 14001 certification is a sine qua non condition for any new partnership. "
Specialised in mass production series of moulded and cored complex aluminum parts (foundry, machining and assembly), SICTA is a partner of choice for the automotive sector, particularly reputable for its production of compressor housings. Upstream of each project, SICTA participates in the co-engineering phases, in order to guarantee to its customers the best feasibility / price ratio.
However, with the evolution and the energy revolution underway in all industrial sectors, SICTA is renewing and establishing itself as a strategic partner in new sectors, backed by its world-renowned expertise: the era of thermal vehicle systems is coming to an end and SICTA has recognised expertise in the manufacturing of parts including water cooling circuits, which makes it a privileged interlocutor for manufacturers working with "clean" or renewable energies. (automotive, energy, hydrogen, climatic engineering (Heating, Ventilation, Air Conditioning) …).
Source : http://www.iso14001.fr/respecter-lecologie-avec-les-normes-iso-14000/