As the big trade and industrial trade shows finally reopen their doors to the public,  the  CITELE Group and it's FRB subsidiary are delighted to meet their clients and partners again, from September 22 to 23, 2021, in order to display their know-how and products on the  Aerospace Additive Manufacturing Summit in Toulouse.
As the only specialist of the Indirect Additive Manufacturing process on this event, FRB invites you to come and discover what it deals with during those 2 special days!
On the Aerospace Additive Manufacturing Summit (AAMS) program this year :
Aerospace Additive Manufacturing Summit is the first additive manufacturing event dedicated to the aerospace industry, coming back in Toulouse from September 22 to 23.
– Summit : Sept, 22 ( 9:00 to 17:30) : Learn from world-class manufacturing and technology experts about the latest innovations in additive manufacturing in the aerospace & defense sectors. You can discover here the full conference program of AAMS 2021.
– B2B Meeting : Sept, 23 (8:45 to 18:00) : AAMS Toulouse is designed to help you connect with your peers in a variety of networking sessions. Our platform helps you connect and schedule 1:1 meetings with the people who align with your business goals. You can schedule your B2B meetings by registering here.
– Workshops : Sept, 23 (8:45 to 18:00) : AAMS offers an intensive workshop program led by industry professionals who will give technical insights on the latest market trends. Get the whole workshops program here.
How to join FRB (booth n°100) on the MEETT Exhibition & Convention Center (Hall 5) in Toulouse for the AAMS 2021?
For this 2021 Edition of the AAMS, the Exhibition & Convention Center welcomes you in strict compliance with the sanitary protocol (COVID, with specific safety measures)
Find here every useful informations so you can easily plan your trip.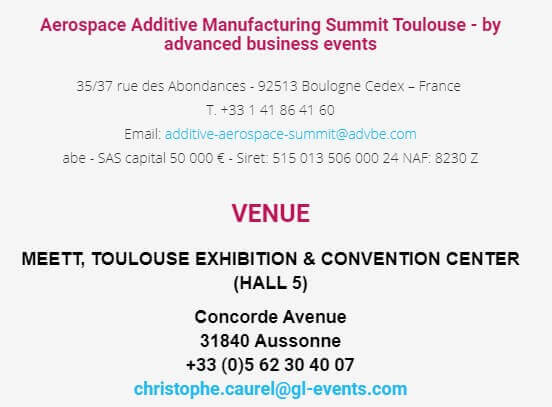 Sources : https://www.3dnatives.com/evenements/aerospace-additive-manufacturing-summit/
https://france.additive-aerospace-summit.com/fr/