"Hydrogen Business For Climate" is a transnational event that materialises the energy transition in France and in Europe.
For 2 days, the fair's participants will join as a group of more than 50 international experts from the industrial, academic and politics sectors to share their vision and explore options to build a hydrogen-friendly Europe.
https://h2-bfc-connect.pvf.b2match.io/page-2351
Together, they will pursue the same objectives :
✓ shed light on hydrogen markets
✓ nourish cooperations
✓ initiate businesses and accelerate the implementation of concrete solutions through a program built to inspire, go further, faster.
Join our experts (Sicta & CITELE Industrie) !
Come and visit our virtual stand for an individual
B to B meeting
January 13, 2021 from 1:00 p.m. to 5:00 p.m.
(registrations here)
 2 full days, dedicated to innovation and inter-professional cooperation, with virtual round tables, BtoB digital meeting sessions, or educational programs to understand the "H2 Revolution".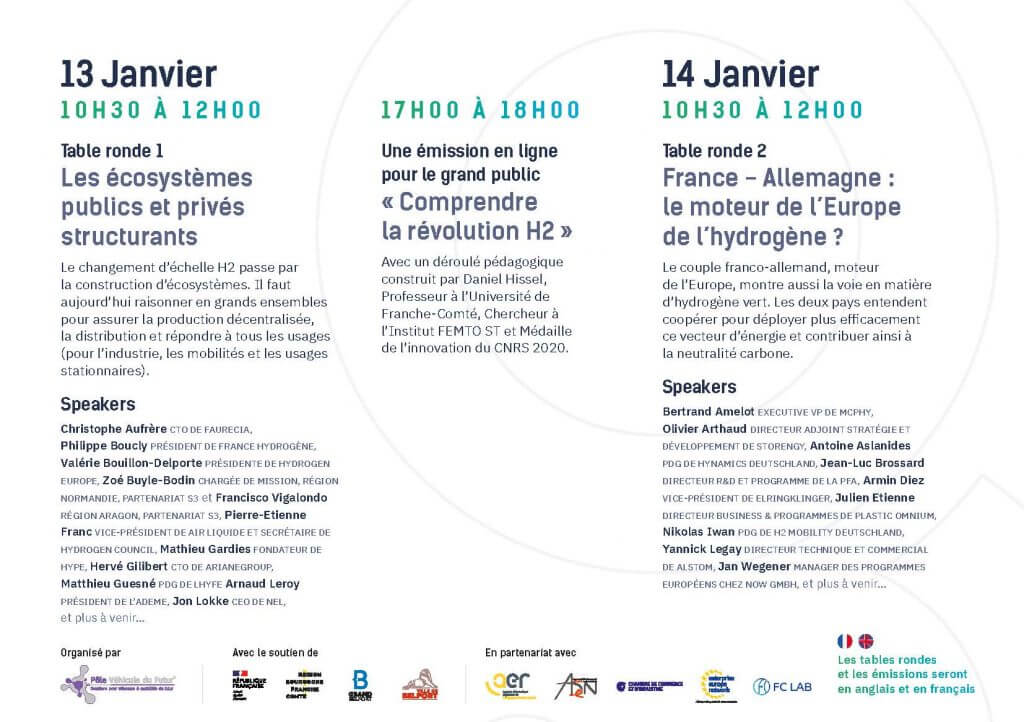 Also present : Faurecia, Alstom, EDF, Hynamics, ENGIE, STORENGY, ROUGEOT ENERGIE, Fuel Cells & Hydrogen Joint Undertaking (FCH JU) , AFHYPAC, Association Française pour l'Hydrogène et les Piles à Combustible France Hydrogen, REGION BOURGOGNE-FRANCHE-COMTE, AERBFC, FC Lab, Pôle Véhicule du Futur, AKG Thermotechnik International, Ames Glodsmith Ceimig, Bushcleanair, Bouygues Energies & Services, Chart Industries, Inc., Cryostar, Fraunhofer, FillnDrive, FEC Software and testing Solutions, GazelEnergie, Insign, KST-Motorenversuch GmbH & Co. KG, McPhy, Plastic Omnium, Groupe SAFRAN 
An event organised by Pôle Véhicule du Futur
Supported by the French State, the BOURGOGNE-FRANCHE-COMTE REGION, Grand Belfort and the City of #Belfort
In partnership with France Hydrogen (formerly AFHYPAC), AERBFC, NORD FRANCHE-COMTE ECONOMIC DEVELOPMENT AGENCY, Bourgogne Franche-Comté CCI, Entreprise Europe Network and FC Lab Research.
Sources : 
https://www.vehiculedufutur.com/2021-01-06-Hydrogen-Business-For-Climate-CONNECT.html
https://h2-bfc-connect.pvf.b2match.io/page-2351
https://www.linkedin.com/company/hydrogen-business-for-climate/