As part of a government-led support plan for the automotive industry, CITELE Group has been endowed with an 800,000 euros budget.
Its newest subsidiary, Fonderie Rapide Belfortaine (FRB), will benefit from this financial assistance through an acquisition project regarding a 3D printer.
Last spring, in May, the President of the French Republic announced a support plan towards the automotive field with the objective of supporting investments in order to modernise the sector. Following this announcement, a Call for expressions of interest was launched.
In the town of Offemont, the Fonderie Rapide Belfortaine (FRB), a new subsidiary of CITELE Group specialised in manufacturing of aluminum prototype parts mainly for the automotive industry (find out more elsewhere), applied for this call in September. FRB took the right path.
https://www.territoire-de-belfort.gouv.fr/index.php/Politiques-publiques/Economie-emploi-entreprise-amenagement-commercial/France-Relance/France-Relance-SMRC-et-FRB-eligibles-au-fonds-de-modernisation-automobile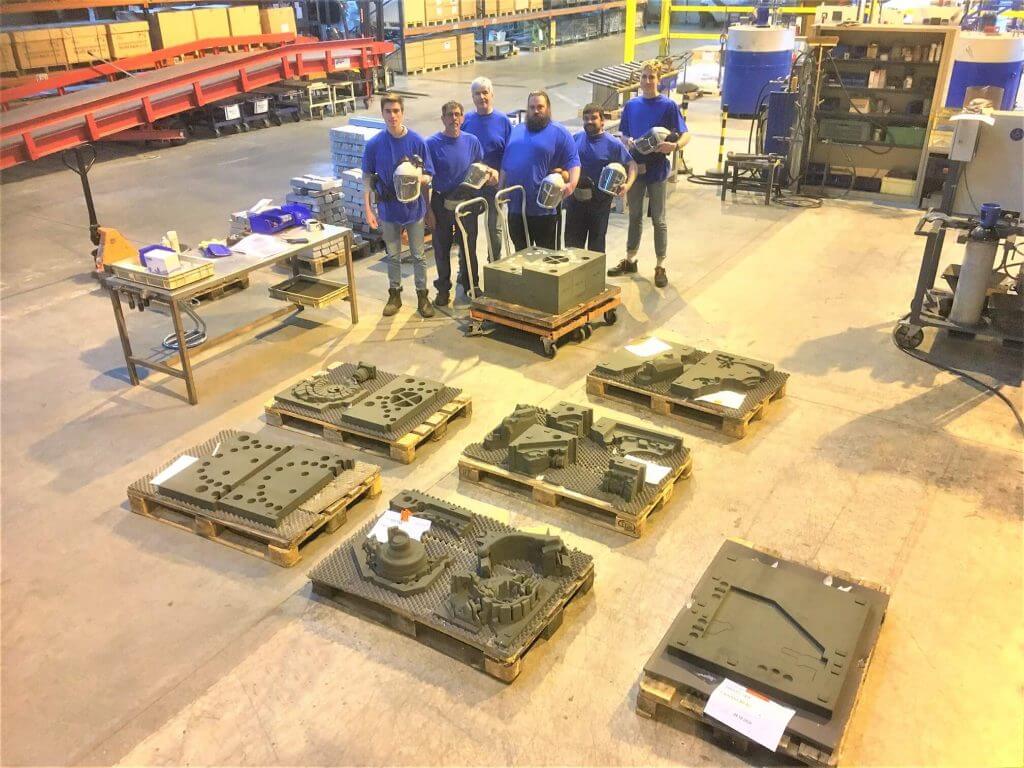 Autonomy, speed and responsiveness
Shortly after, in October, the Offemontoise company found out that it was selected to benefit from this support plan.In the same county, Lisi Automotive Former in Delle or SMRC Automotive in Rougegoutte were also selected.
Thanks to the CASOAR-3D project, representing a global investment of around 1.5 million euros, FRB was able to win this Automobile Modernisation Fund. To develop its initiative, the company will benefit from a total grant of 800,000 euros made available by the government.
"I was extremely moved by the fact that we could be helped like this during these times we are currently going through", said André d´Alès, President of CITELE Group.
He discusses the specificities of CASOAR-3D : "It is a project that consists in acquiring a 3D printer which will allow us to make our own sand moulds used to manufacture our prototypes. This printer will allow us to be more autonomous, responsive and faster as, today, we buy these moulds in Germany. "
Roumen Batchvarov, the director of the FRB, adds: "Currently, we receive three trucks weekly which come to deliver us these moulds."
Towards the creation of 20 jobs
With this State support, the company is thinking bigger. "We plan to acquire the printer before the end of 2020 and thus start the related activity as of next year. It is going to take time to acquire the skills to master this machine. Without this assistance from the government, I don't think we would have taken the plunge. Especially during the current period", points out the president of the industrial group.
In addition to the environmental and economic advantages that this represents, the acquisition of this new tool would also allow the company to expand its team.
André d´Alès explains: "This project will create around 20 jobs within three years. The autonomy and responsiveness that we will gain from this printer will encourage new customers to take an interest in us. "
Watch this space for further development.
Fonderie Rapide Belfortaine : the group's new subsidiary
Currently, CITELE Group whose headquarters are in Offemont, employs approximately 440 people within three subsidiaries.
Sicta, which is present in France, Hungary and China, employs around 380 people and is specialised in mass production of aluminum castings for the automotive sector.
In Grandvillars and Offemont, Citele Industrie and its 60 employees machine small and medium series of complex parts used in the energy sector for turbines, as an example.
Fonderie Rapide Belfortaine (FRB), for its part, is the group's third subsidiary. Created at the end of 2019, it now has seven employees and spans across 1,800 square meters in the premises of the group's headquarters.
 "We created FRB to have a fully-fledged company that is in charge of prototyping. Before, it was part of the Sicta subsidiary but there was no longer any synergy between the two entities ", indicates André d´Alès, President of the CITELE Group.
He continues : "With FRB, we have quite a unique expertise. It is the making of prototypes from scratch, mainly in aluminum, in a very short time. Especially for the automotive sector but also for agriculture, health, aeronautics, etc. "
Article from the Est Républicain (published on 12/02/2020), by Hugo COUILLARD :
"A grant of 800 000 euros towards the development of Citele Group"
https://www.estrepublicain.fr/economie/2020/12/01/offemont-une-subvention-800-000-euros-pour-aider-la-fonderie-rapide-belfortaine-a-acheter-une-imprimante-3d